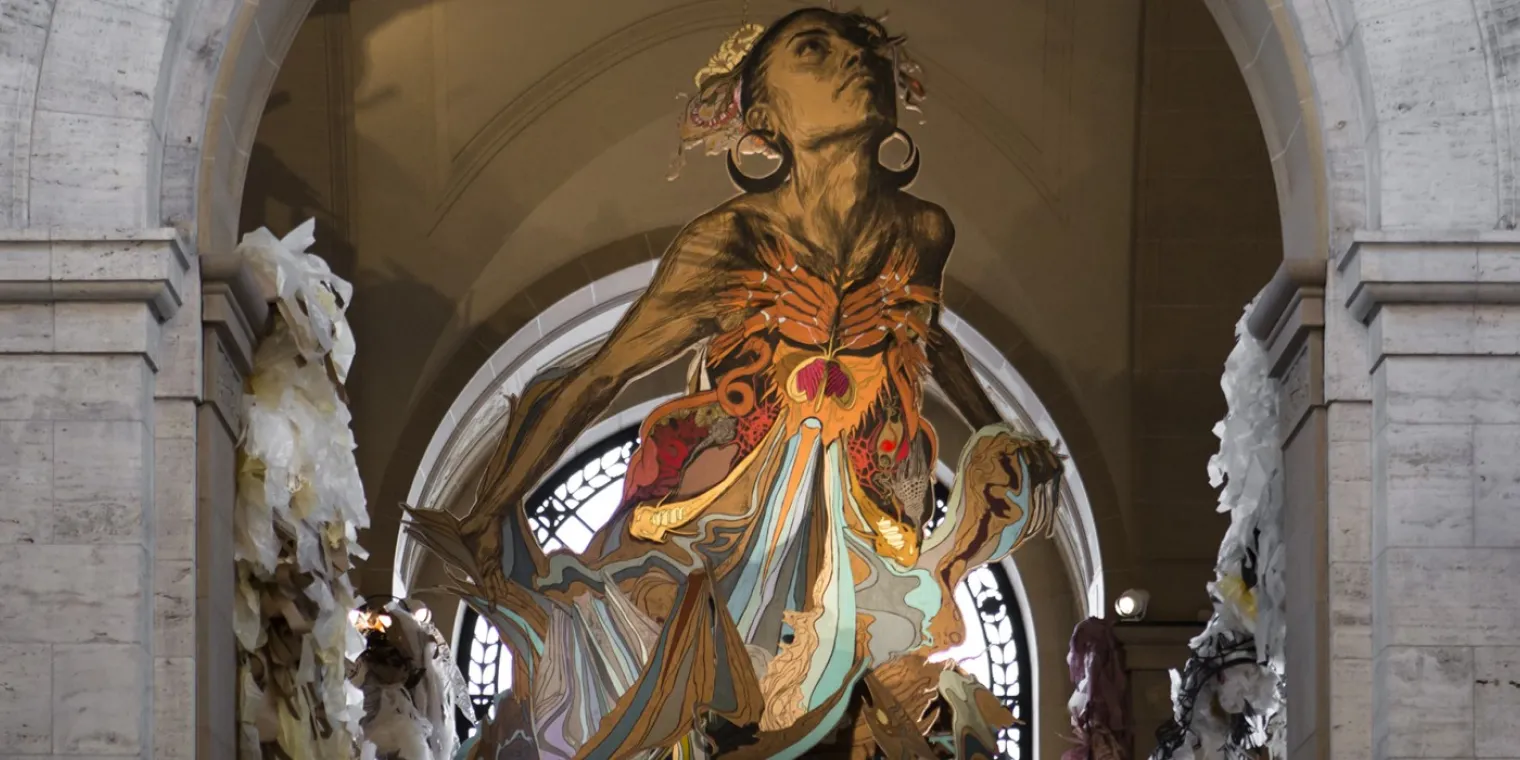 September 24, 2016 – June 24, 2017
New York street artist Caledonia "Callie" Curry, known as Swoon, has installed a 400 lb. 20-foot tall installation titled Thalassa in the Detroit Institute of Arts' Woodward Lobby. Thalassa is on view from Sept. 24, 2016 through June 25, 2017.
Swoon installed the work over the course of two weeks in mid-September 2016. Swoon's installation also coincides with a community mural project in Detroit's Jefferson-Chalmers district, with assistance from several local artists. 
"Building connections between art and community is a vital component of the museum's vision," said Salvador Salort-Pons, DIA director. "It will be a powerful experience for the residents who encounter Swoon's Jefferson-Chalmers mural in their daily life to see a part of their neighborhood reflected inside the museum. At the same time, we hope it inspires museum visitors to see that neighborhood in a new way. The DIA belongs to everyone in the region, and this project creates new opportunities for those connections."
Thalassa's face looks upward and her bodice is adorned with imagery of sea creatures, as well as colorful swatches of fabric. The sculpture is made from large linocut prints, hand-colored and mounted on thin plywood for structural support. The underside of the figure is embellished with numerous paper and Mylar hand and laser-cut decorations, and the tentacles are made from rope hung with a variety of paper, cloth and plastic materials. Thalassa was originally on view at the New Orleans Museum of Art in 2011.
Thalassa is free to view with general museum admission. General museum admission is free for residents of Wayne, Oakland and Macomb counties.