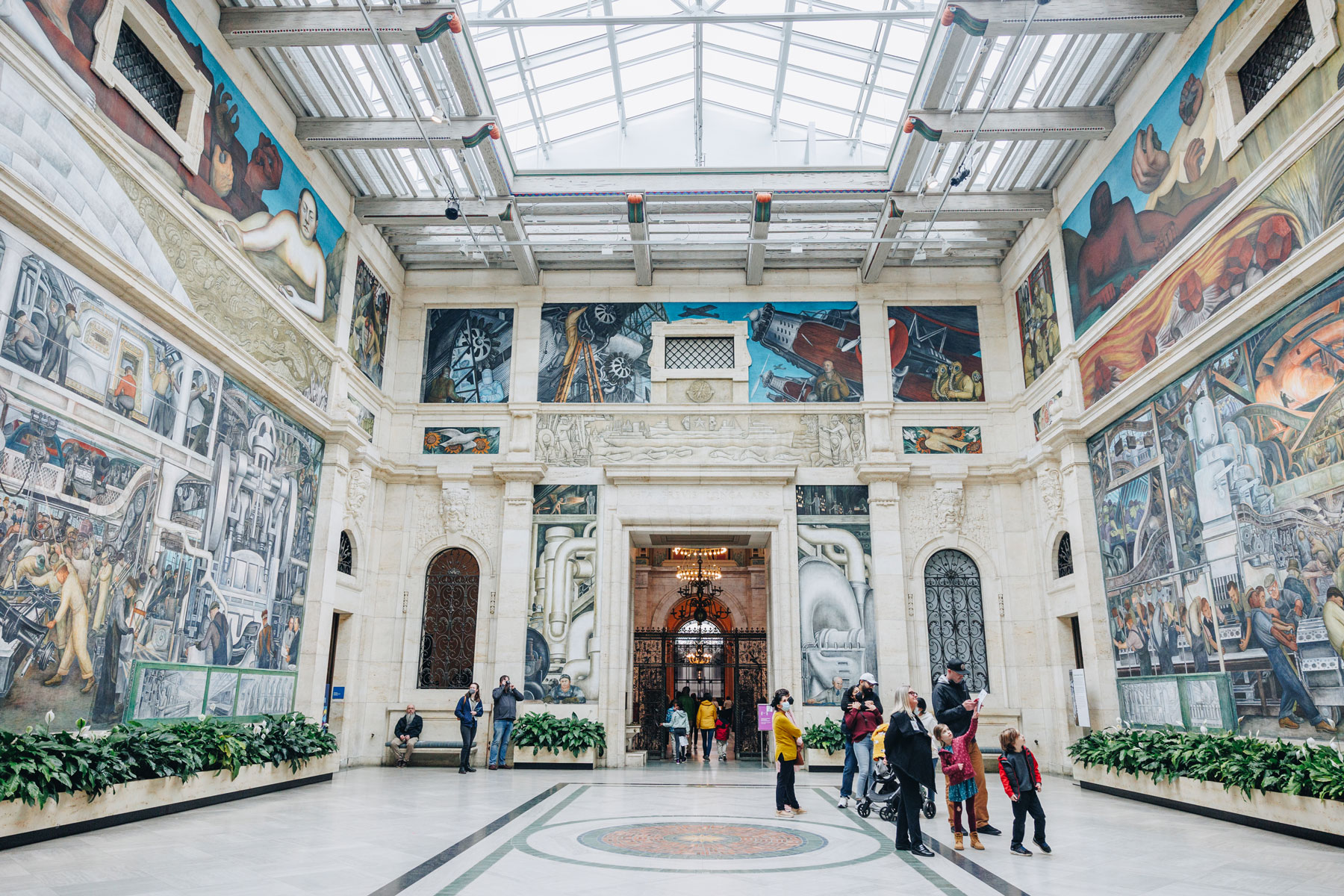 Spark students' imaginations, encourage wonder and discover new worlds
Field trips are designed for Pre K – 12 classroom or homeschool groups, summer and recreational camps, and community organizations and are free for schools within Wayne, Oakland, and Macomb counties.
The Detroit Institute of Arts is monitoring the evolving COVID-19 pandemic. All details are subject to change.
In-Person Experiences
Classroom Teacher-Led Visits (Grades PreK - 12)
When you lead your students in the museum, the DIA is an extension of your classroom. We provide helpful online teaching resources, including graphic organizers tied to various curriculum areas, lesson plans, and writing prompts.

Apply for a Teacher-led Visit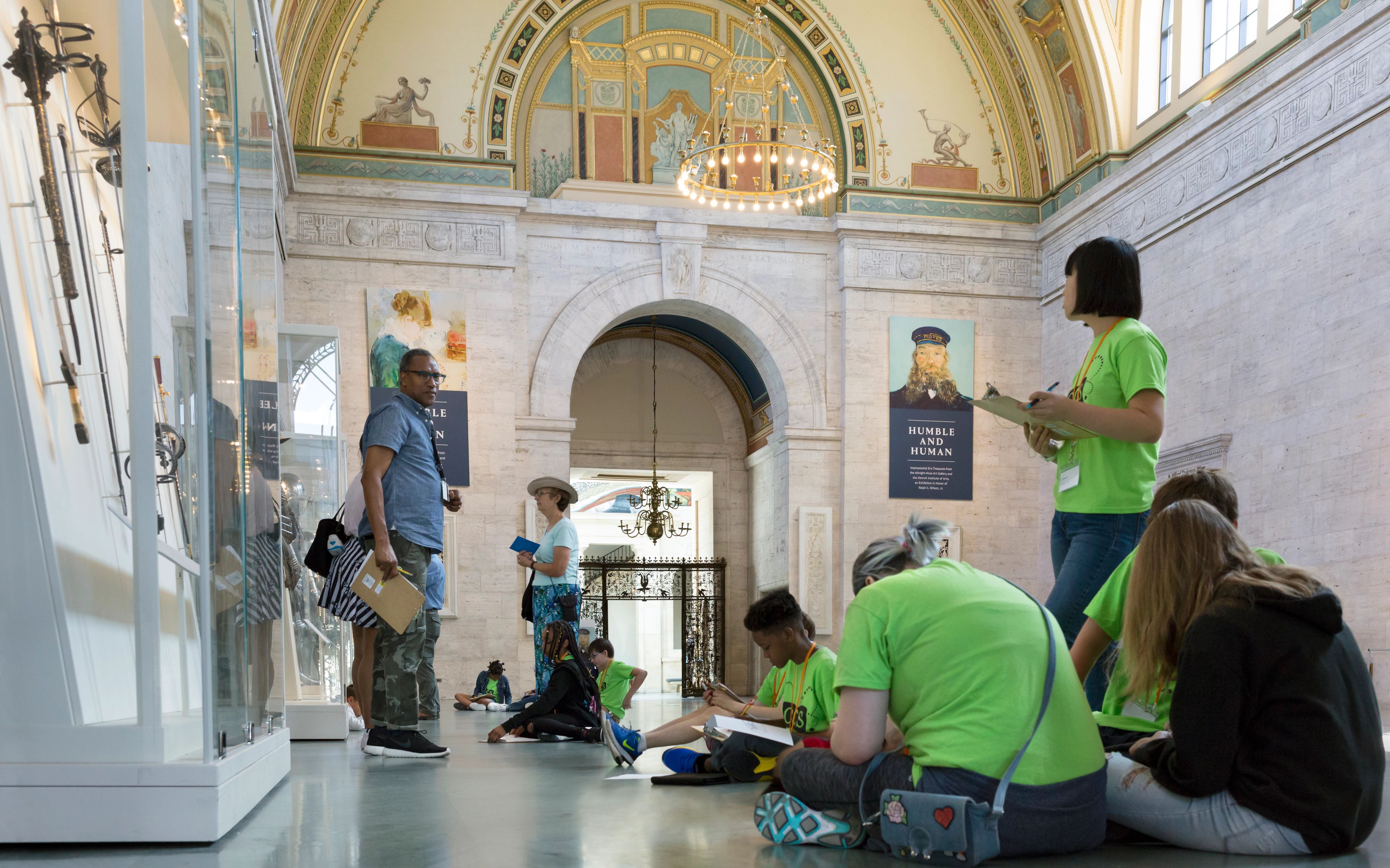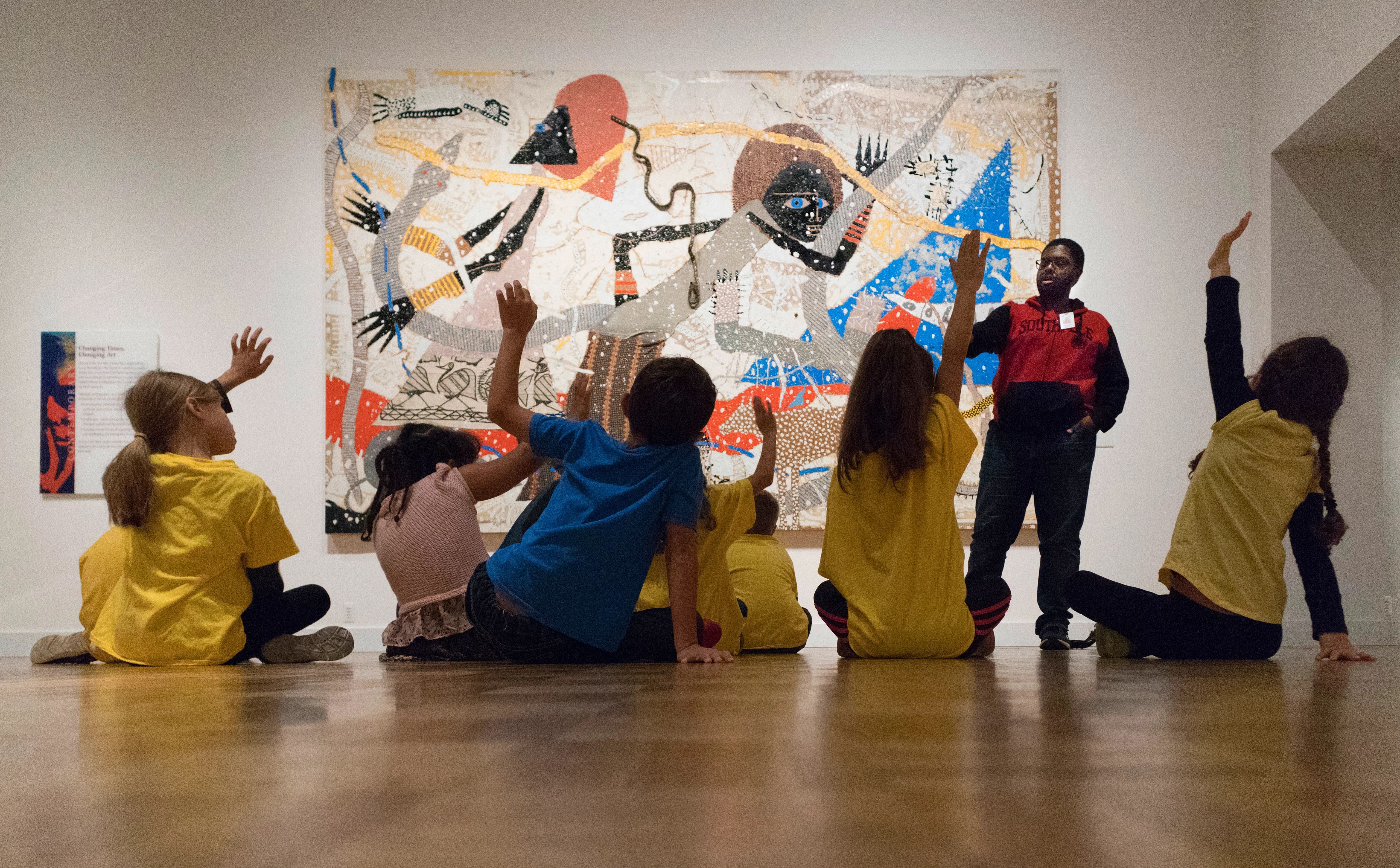 Guided Gallery Experiences (Grades PreK - 12)
DIA Gallery Teachers use inquiry-based and student-centered teaching strategies to facilitate learning in the museum. A Gallery Teacher will work with you to design activities that engage your students and support your curriculum goals.

Apply for a Guided Visit
Meaning Through Art-Making (Grades 3 - 5)
Students engage in a facilitated, inquiry-based discussion of art in the DIA galleries, followed by art-making in the DIA Studio, motivated by questions related to their own knowledge, ideas, and experience. Teachers can choose either printmaking or mixed media projects.
Registrations for the current school year are now closed.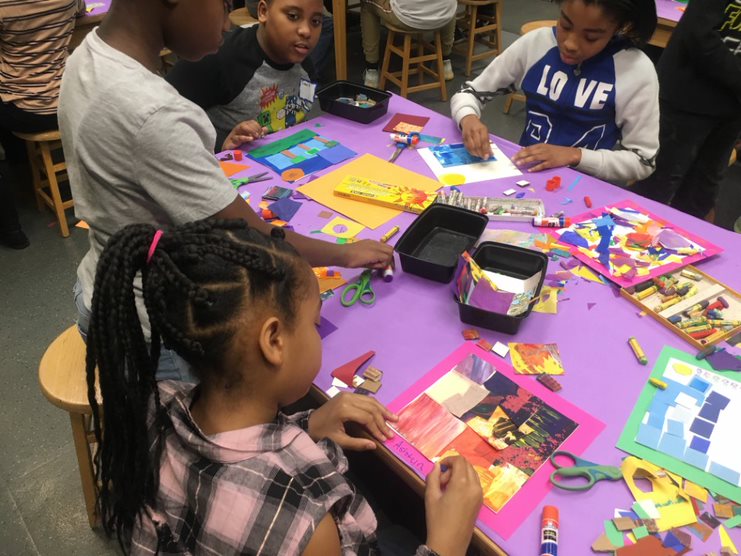 Experiences Outside of the Museum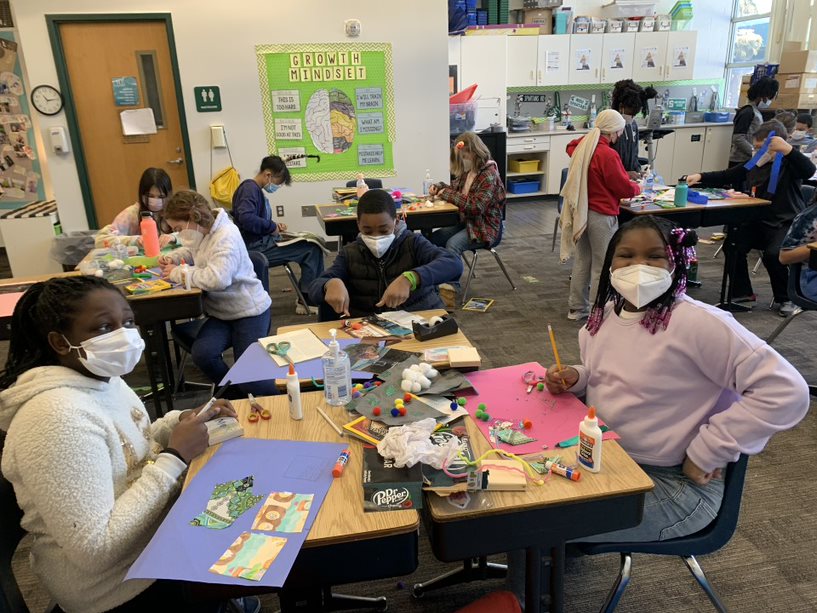 Meaning Through Art-Making | Virtual (Grades 3 - 5)
Students engage in a facilitated, inquiry-based discussion of art in the DIA online collection, followed by a collage-based artmaking using materials found around the classroom, including scissors, glue, tagboard and a variety of scrap papers.
DIA Delivered (Grades K - 12)
DIA Delivered is a program for K-12 teachers and students that brings toolboxes filled with a variety of items to your classroom, providing students with opportunities for close-looking and exploration. Designed to create a window into the DIA's world-renown collection from afar, each toolbox offers a variety of curriculum-based activities, connecting your students to some of our favorite works of art!

DIA Delivered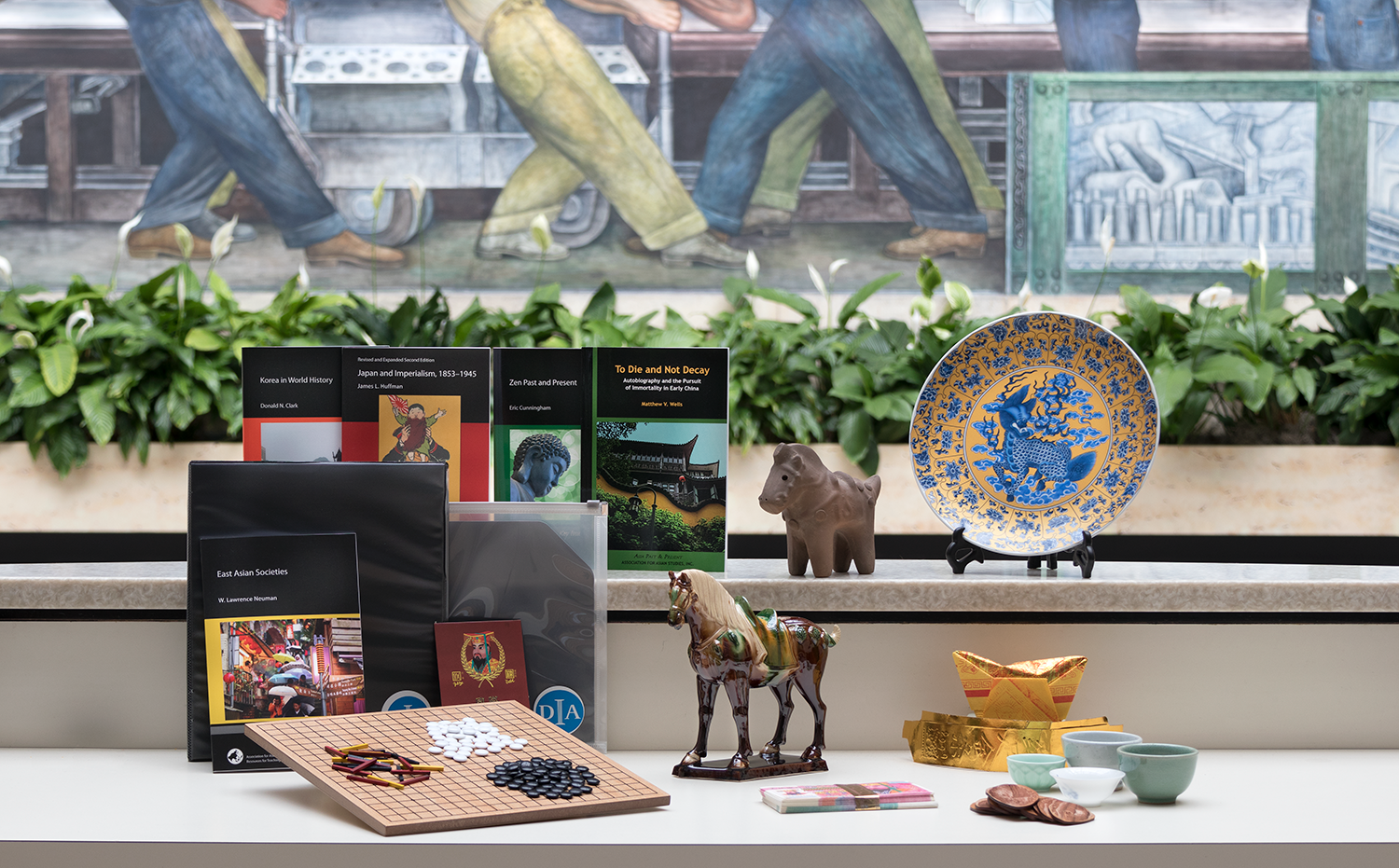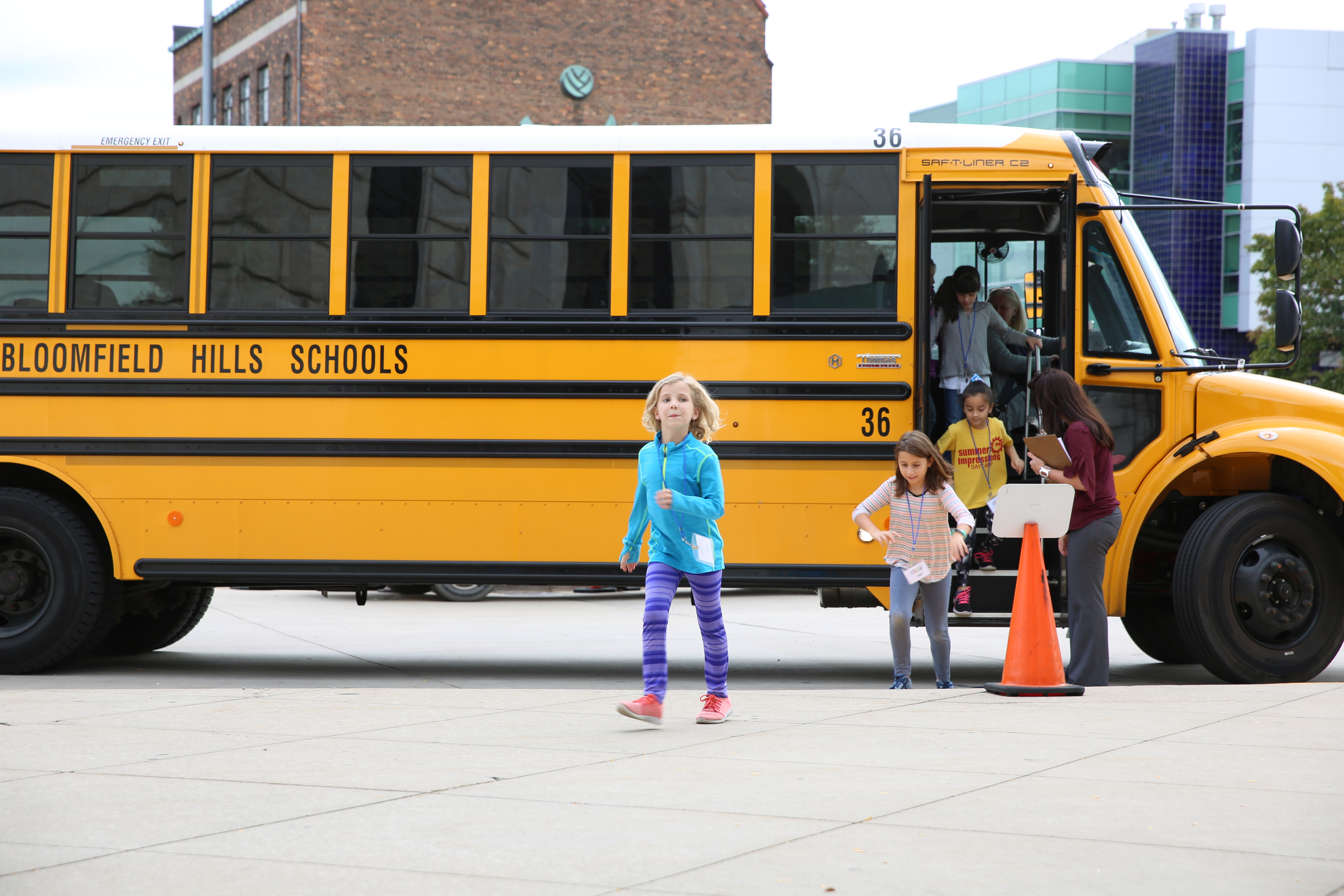 Prepare for your Visit
We are excited to be welcoming school groups back to the DIA. To best plan your visit, please refer to the following materials on our website.
Types of Experiences Available
DIA Gallery Teachers use strategies based on Visual Thinking Strategies (VTS), a research-tested teaching method used by museums and schools for more than 30 years, exploring art to encourage creativity, problem-solving, critical thinking, and collaborative learning.
A wide range of experiences is available, each designed for specific ages and types of learners.
Designed for the earliest learners, students engage in activities and games that make them better observers of art and their world. Students must be at least 4 years old. (30-45 minutes)
Summer Escapes are highly engaging gallery experiences designed to energize your student group's summer visit to the DIA. Some of our popular topics are: Time Travel, Art of the Selfie, Ewww That's Gross, Girl Power, Cool Dudes, Heroes and Villains, and Boo!  Designed for students in PreK through 12th Grade. Perfect for multi-age groups including summer camps, summer schools, and scout groups.
Once booked, a DIA Gallery Teacher will contact you to help you select the perfect escape for your group. Book as a Guided Field Trip and indicate "Summer Escapes" in the special needs section.
Students participate in a guided tour around themes of friendship, creativity, gratitude, generosity, kindness, patience and honesty based on the needs of the teacher, followed by a self-guided or teacher-led activity, or for older children (grades 5-12), a teamwork exercise. (60 minutes with a Gallery Teacher, 60 minutes with the classroom teacher)
​​​​​​Students consider choices that artists make and how art helps us connect to our thoughts, feelings and the experiences of others. (45-minutes)​
Students engage in discussions of selected art in the galleries, followed by hands-on experiences in the Art-Making Studio. Printmaking and mixed media experiences are available. (Two hours)
Students practice deeper looking, critical analysis, and communication through discussions of art, sharing observations and interpretations as well as evidence to support their thinking. (45-60 minutes)
Students engage in directed discussions about art, exploring how people of diverse cultures use art to define, reinforce, and communicate cultural, national, and personal identity. (45-60 minutes)
Shaping Identity – A Broad Cross-Cultural Exploration: Includes art from around the world and spanning thousands of years.
Shaping Identity can also include a more focused examination of a part of the world. Each experience starts with a global view. Please note that the DIA Contemporary galleries will be closed for a reinstallation that will affect some tours for the next two school years.
New! Shaping Identity – Africana: Art and artists from the African diaspora.
Shaping Identity – Art of the Americas: North, Central and South America, including the Ancient Americas and Native American art from the colonial period to the present.
Shaping Identity – Art of the Ancient World: Ancient cultures such as Africa, Asia, Egypt, Europe, the Middle East, North America or South America.
New! Shaping Identity – World Languages: Connections made between world languages and the cultures from those regions.  May include: Arabic, Asian, French, German and Spanish art and artists.
Shaping Identity – Art of the Renaissance: How the art reflects life in Europe during this time of change and growth. Recommended for middle and high school.
Shaping Identity + Thinking Through Art: Mix it Up! Two great experiences in one.  Open-ended discussions with directive looking and learning.
Experience designed specifically for art teachers or for any class interested in the history of clay arts. This experience will explore works of art created from clay, created by cultures and societies from around the world and throughout time.
Students learn that art and science are connected through interactive, science-related experiences that put the "Art" in "STEM!"
Putting the STEAM in STEM in Rivera Court: Gallery teachers engage students in open-ended discussions using VTS. Then a science educator leads student teams through a science and technology problem-solving adventure as they explore Diego Rivera's Detroit Industry Murals. Capacity is 60 students. Limited availability. Mondays only. Allow 3 hours

Putting the STEAM in STEM in Conservation: Science students observe and work with members of the DIA's Conservation Lab while exploring works of art. Students learn how scientific investigations authenticate, date and preserve works of art in the DIA's world-class collection. Limited to 60 students, grades 6-12. Limited availability. Fridays only. Allow one hour.