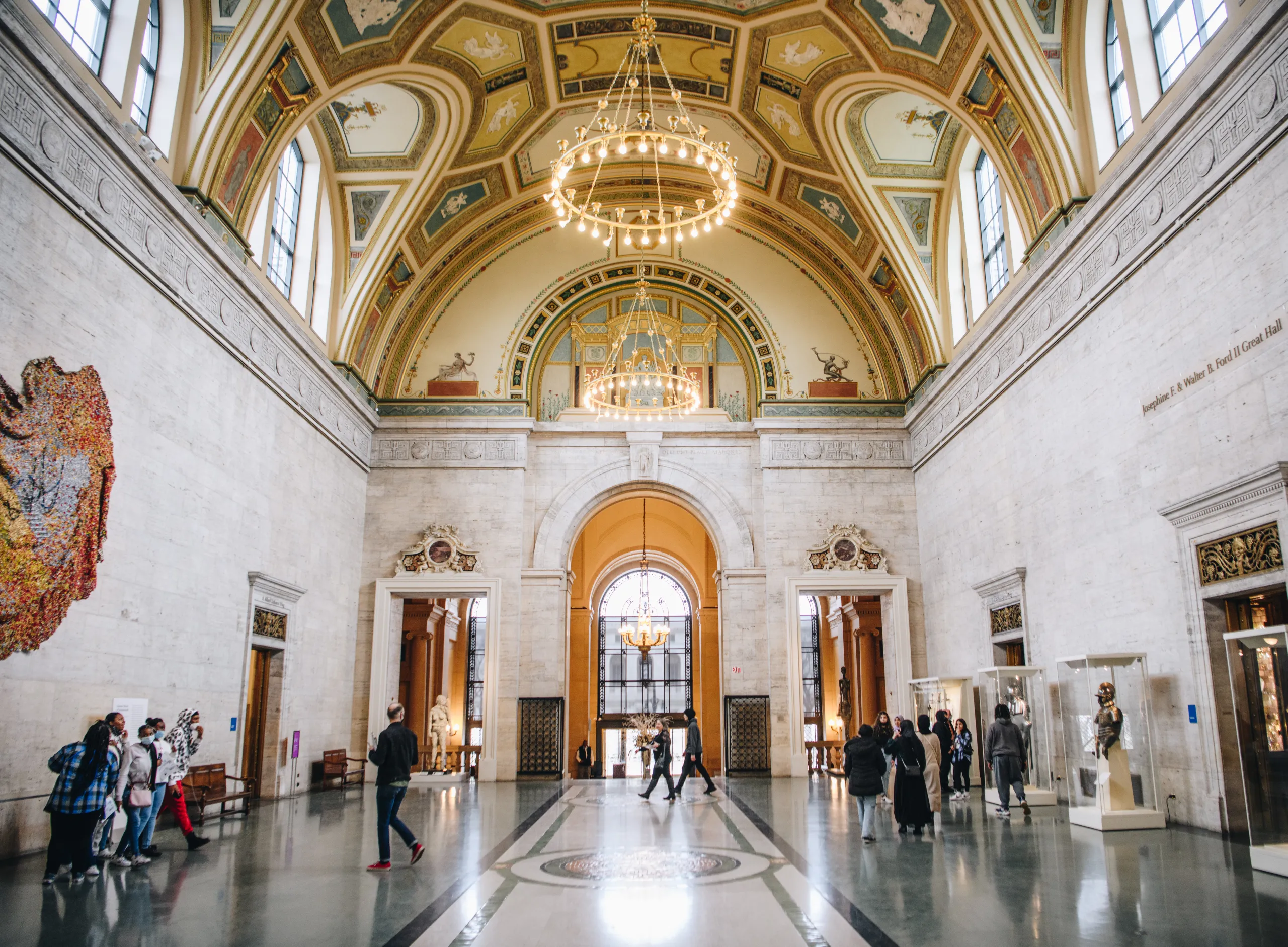 Take a closer look
Presented by trained DIA teaching volunteers, Behind the Seen brings insight and engagement about the DIA's collection from the museum to your community. Talks last up to one hour and are available to adult civic and social groups, libraries, senior centers, and other community-accessible locations in metro Detroit.
To schedule a talk, please fill out the form below. BTS talks can be scheduled free for groups in Wayne, Oakland and Macomb counties. For all others there is a $150 fee.
Talk Descriptions
This talk celebrates the DIA's status as the first public museum in the United States to purchase a painting by Vincent van Gogh, his Self-Portrait (1887). On the 100th anniversary of its acquisition, experience around 70 authentic Van Gogh works from around the world and discover the fascinating story of America's introduction to this iconic artist, in a presentation about this exhibition only at the DIA.
Drawn from the Detroit Institute of Arts' permanent collection, learn about this exhibition that presents paintings and works on paper by 19th-century Dutch and French Realist artists, all of whom were contemporaries of artist Vincent van Gogh (1853-1890). This talk highlights artists who were known to impact Van Gogh's artistic development.
View and engage in a century of Dutch art, inspired by the vast trade between the Dutch Republic and the world they sailed in search of spices, porcelain, rugs and more. Listen and see how the Dutch Republic thrived during their "Golden Age."
Explore the imagery and social commentary of pop culture in From Camelot to Kent State: Pop Art, 1960-1975. Artists in the 1960s celebrated American modern culture while also creating artworks that conveyed social and political commentary of the times. Explore pieces that both critique and celebrate mass media and popular culture.
This talk is based on Visual Thinking Strategies, a facilitation method used to engage participants in lively discussions about artworks, based on observation and evidentiary reasoning. Speculating on multiple interpretations, participants use critical thinking skills to come up with ideas about "What's going on" in the art images.
This talk will introduce you to the impact of art photography by some of the leading women artists in the 19th and 20th centuries.
This talk explores the hidden meanings behind images of flowers, plants and garden which are featured in some of our most favorite works of art.
The clothing you wear can say a lot about who you are. This talk explores costuming and adornment throughout time and discover the many ways that personal, political and cultural identity is communicated through our clothing and body art.
Art|Pride raises awareness of the significant contributions by LGBTQ+ artists and their impact on the art world. These artists are among the leaders of modern and contemporary art and have shattered stereotypes and defied prejudice and discrimination on their path to success.
Enhance your awareness of the creative contributions of African Americans from the 19th century through the present day. This talk provides a lens to examine issues of race, gender, politics and culture.
Compare different ways people throughout the world and throughout time have used works of art to hold, communicate and reinforce ideas about religion, spirituality and cosmology.
A mystery is defined as something unexplained or inexplicable, or as a person or thing having qualities that arouse curiosity or speculation. The many mysteries of the DIA include stories and images, newly discovered meanings and issues of authenticity.
Scientists have proven that when experiencing "love," brain cells release dopamine, a natural stimulant, to many regions of the brain that affect human behavior. These areas of the brain are associated with wanting, motivation, focus, and craving. View a selection of works that explore the variety of behaviors associated with "love."
Some of the most important French artists of the 19th century resisted the elitist aesthetic of the academic art tradition by emphasizing the people around them and the human experience as subject matter during a transitioning moment in the modernist era. These are all works on paper by Degas, Renoir, Manet, Toulouse-Lautrec, Vuillard, Bonnard, Cezanne.
Learn the complex and intriguing story behind Diego Rivera and his Detroit Industry murals, which have now been declared a National Historic Landmark.
Viewing the work of women artists in the DIA collection heightens awareness of the creative contributions of women across cultures and time and provides a lens through which to explore issues of gender, relationships between generations, politics, and culture.
Exploring the presence of music in visual art heightens awareness of the role music plays across cultures and time and provides a lens through which to explore the personal, social, and creative aspects of identity.
Exploring the history of the DIA heightens awareness of the individuals who founded the museum, built its collection, and supported the institution for over 128 years and provides the basis for understanding why the DIA is considered one of the most renowned and innovative art museums in the world.
Explore select DIA artworks to gain an appreciation of the diversity, quality, and world-class status of the museum's collection.
Explore the who and why's of artists and their long history of creating self-portraits. Learn who created dozens of images of their own face, and who decided to use symbols only as a self-portrait, leaving us to guess the "why." Spend an hour looking together at a variety of artists who chose how they wanted us to creatively "see" them through the lens of an artist.
Listen and engage as your DIA docent uses the DIA's artworks to bring the women's suffrage movement to life. Over 100 years of women's efforts for the vote, constitutional equality, and social and political equity will be explored in this presentation, created to celebrate the 100-year anniversary of American Women's Suffrage.
Please note: a screen and a room that can be darkened are required. All technology for projection must be provided by the venue.
Funding for Behind the Seen talks in Wayne, Oakland and Macomb counties is funded by the Tri-County Millage.