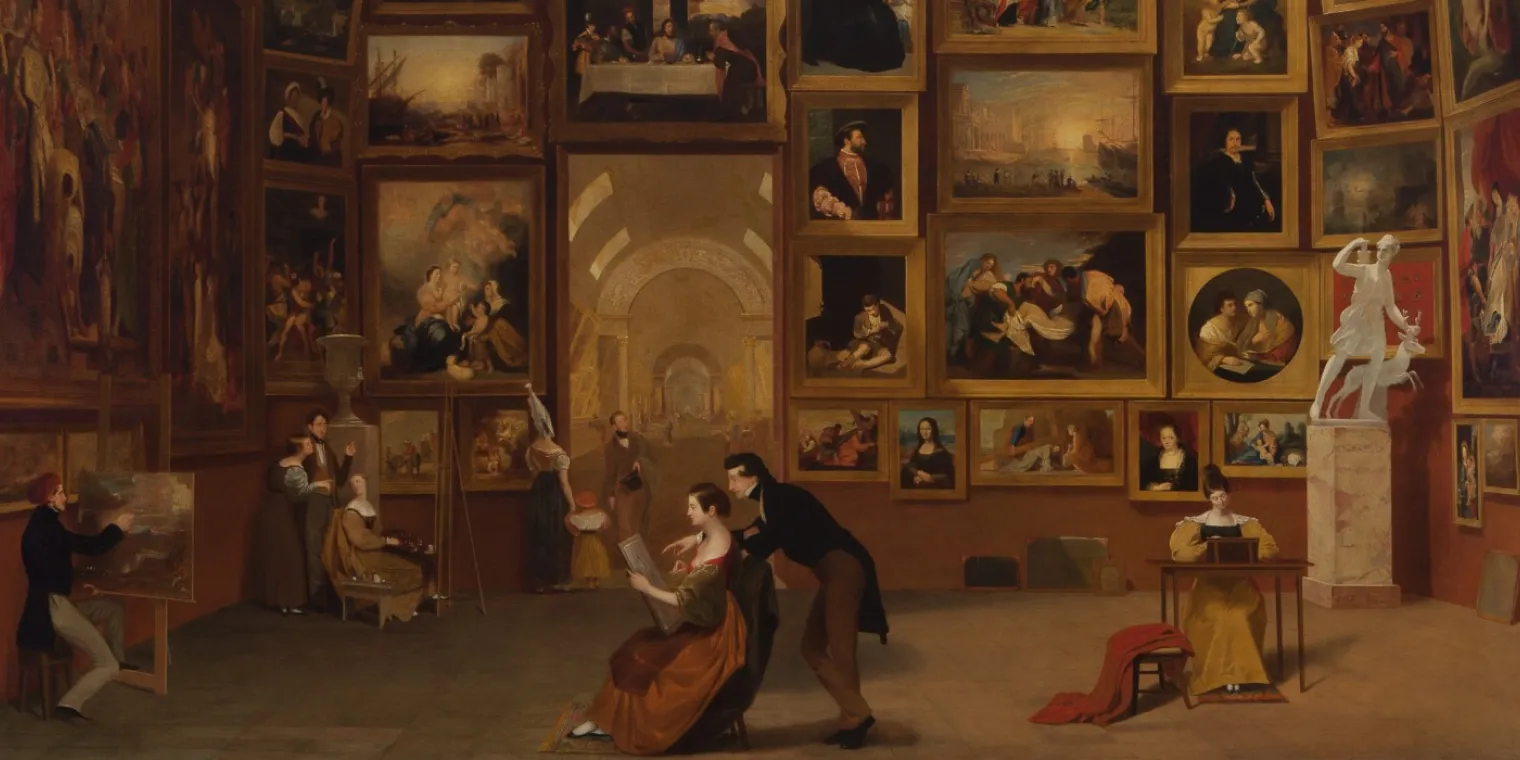 Guest of Honor: Gallery of the Louvre
June 16 – September 16, 2016
The DIA welcomes Samuel F. B. Morse's painting Gallery of the Louvre as a "guest of honor" from June 16 to September 18, 2016.Gallery of the Louvre is on loan from the Terra Foundation for American Art and also includes Morse's copy of Titian's famous portrait of the French King Francis I, made from the original at the Louvre.
The 6.2 x 9-ft. Gallery of the Louvre depicts a gallery imagined by Morse, in which he included 38 miniature versions of what were then the Louvre's most famous paintings, two sculptures and several people, among them Morse, his daughter, and American author James Fenimore Cooper. Among the artists represented are Leonardo da Vinci, Rembrandt van Rijn, Michelangelo Merisi da Caravaggio, Anthony Van Dyke and Peter Paul Rubens.
The Louvre was one of the world's first public art museums, and because there were no public museums in the United States, Morse wanted to expose American audiences to European art history and to works like the "Mona Lisa" and other masterpieces, which they wouldn't have been able to see without crossing the ocean. He presented the paintings as being all in one gallery, intending it to serve as a "miniature museum" for American audiences. When Morse sent the finished painting to New York for public display in 1832, it simulated the experience of viewing original artworks not available to most Americans until the late 1800s, when institutions like the DIA were founded throughout the country.
Today Morse is known for his role in the invention of the telegraph and as the co-developer of Morse Code, but prior to his career as an inventor he was a leading American artist. "People might be surprised to learn the Samuel Morse was a successful artist prior to achieving fame as an inventor," said Salvador Salort-Pons, DIA director. "His creativity carried through both careers and the DIA is excited to host one of his most renowned works."
Morse publicly exhibited Gallery of the Louvre only twice—in New York City and New Haven, Connecticut. While the painting received praise from critics, the public's reaction was lukewarm, which greatly disappointed Morse. He quit painting several years later and focused his attention on long-distance communication technology, for which he is best known today.
Guest of Honor: Samuel F. B. Morse's Gallery of the Louvre is part of a national tour organized by the Terra Foundation for American Art. The exhibition is free with museum admission and free for residents of Wayne, Oakland and Macomb county.